Feng Shui special locations in 2021 (2)
Besides the aforementioned four special locations, also known as the "four kings of annual activation", there are also some other locations we can activate in order to trigger  specific types of luck.
The other beneficial locations that can bring specific types of luck in 2021 are:
Northeast 3 (Nobleman Star)

North 2 (Intelligence Star)

South 2 (Peach Blossom Star)

Northwest 3 (Sky Horse Star)
If you read the previous post about the four special locations in 2021, you have learned that Northeast 3 is one of them. However, now you know that by activating Northeast 3 it is possible to accomplish two goals with only one activation (the Tai Yang Star, plus the  Nobleman Star). In such a way, you can send a strong invitation for helpful people, good advice and smart guidance to enter your life.
To activate South 2 and awaken the Peach Blossom Star (that governs romance, art and personal attraction), use fire. This Star can help not only your social encounters, but can also bring more opportunities to date and advance in any kind of business that requires the acquiring fans and increasing popularity.
When it comes to activating Northwest 3, this will prove especially beneficial for those who want to travel more and lead an active life!
Make sure to read the following post to learn more what activation is really about.
Free 2021 pdfs (click on file to download)
Schedule your Chinese Astrology Ba Zi consultation, because in life, there are so many lessons to learn and so many ways to improve yourself and succeed!
We offer Life, Business and Annual Consultation.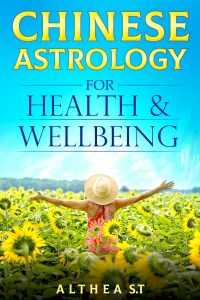 Learn more about your bodily constitution, understand the influence of the ruling meridian on your body and mind, find the best ways to improve your health…
Available on Amazon Kindle and Smashwords
Look for this and other Althea's books on Amazon, to get invaluable insights and empower your life.

Get undivided attention and receive all the knowledge and support you might need in your Feng Shui practice.
We don't hide information, we want you to have strong Feng Shui skills, so that we all can make the world a better place to live.
Don't get satisfied with average, aim to the outstanding!