Feng Shui for romance in 2022
When it comes to romance, 2022 brings a couple of interesting locations:

– Southeast

– East 2
The king (or queen) of all romantic locations is definitely the Southeast – this a great area for everyone who wants to find their match or add passion to their love life.
If you dream of a relationship or marriage, you can't go wrong if you sleep in the southeastern part of your home or spend time there on a daily basis. You can also activate the Southeast on certain auspicious days because this will quickly trigger its energy.
The second location that can benefit your love life is – East 2.
Since East 2 is auspicious for both social life and romance, sleep here and/or spend time here in order to go out more and find opportunities.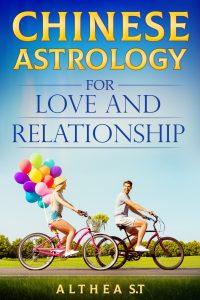 What do we really know about Love?
What does Chinese Astrology has to say about your Self and the ways it loves?
How about your Love Luck? 
Available on Amazon Kindle & Smashwords.
Look for this and other Althea's books on Amazon, to get invaluable insights and empower your life.
Schedule your Chinese Astrology Ba Zi consultation, because in life, there are so many lessons to learn and so many ways to improve yourself and succeed!
We offer Life, Business and Annual Consultation.