Feng Shui for April 2020
Feng Shui for April 2020
The notorious Star Wu Huang, which causes global disasters and pandemics, moved to Southeast in April. At this time, the strength of the pandemic slowly decreased because the Wood of the Southeast is weaker and more Yin in nature then the Wood of the East.
However, although the symptoms may not be as strong and the method of containment could start working, the spread of the virus continues. This is happening because the Element Yin Wood, which rules over Southeast, is also known for its fast spread (it is represented by weeds which spread quickly).
The most important piece of advice for April regarding health is that you should stay away from Southeast and North in your home, especially if your Ba Zi chart contains Rabbit, Dog, or Ox.

April 2020 – Dragon month
April is a Dragon month and it starts on April 4 and ends with May 5; this is the exact time span for using monthly Flying Stars in April.
For wealth, spent time in West, especially if your Gua is 4 or 3.
For romantic opportunities, sleep or spend time in South or East.
If you want to travel more, then South is the best choice.
To recover / strengthen your health, sleep or spend time in Northeast and West.
To prevent obstacles and setbacks, do avoid renovations in South (San Sha), NW1 (Month Breaker) and Southeast (Star 5).

April 2020 in brief
Season: Spring
Starts: April 4
Ends: May 5
Main Element: Earth
Flying Star in the center: 6
Dates for Feng Shui activations
April 11, 11.30 am, West 2 and Southeast 1, for energy, personal fulfillment & wealth opportunities (not for those who have Tiger in their Ba Zi chart).
April 24, 7.30 pm, Southwest 1 + West 2, for energy, activity, optimism & wealth opportunities (not for those who have Rabbit in their Ba Zi chart).
To calculate your Ba Zi chart (free), click here.
———————————————————————
To read the post "Corona time diet & lifestyle", follow the link:
To read the post "Corona vs. Chinese Astrology", just follow the link: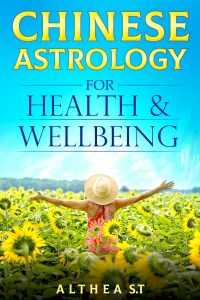 Learn more about your bodily constitution, understand the influence of the ruling meridian on your body and mind, find the best ways to improve your health…
Available on Amazon Kindle and Smashwords
Look for this and other Althea's books on Amazon, to get invaluable insights and empower your life.