Feng Shui and your career in 2022
When it comes to your career and annual Feng Shui, what matters most is to utilize the right locations and the most suitable Stars.
Feng Shui and your career in 2022
Good locations for careers in 2022 (those with beneficial Flying Stars) are:
– East (especially East 2)
– Northeast (especially Northeast 2)
– South
– West (especially West 2)
Since your Ba Zi also matters, if you were born in May, August or November  (according to the solar calendar), then you have to be particularly careful when it comes to selecting the right location for your desk. Make sure to avoid working from Southwest or Northeast 3, because this can put you in a disadvantageous position, with a lack of options for advancement or recognition (furthermore, you may be also more susceptible to making mistakes).
Bearing in mind that different Stars support different industries, you can choose a location for your desk based on the industry in which you are engaged. For example, if your career is in academia, research, or science, then you can benefit the most from placing your desk in the Southeast (of your property, but also of your home study or office). When it comes to South, it is a great area for acquiring popularity and fame in 2022.
If you have promotion in mind, then the right move for you could be to place your desk in the South of your office; working from the South will also help you achieve your objectives and gain recognition. The next option is East, which is more suitable for those who desire a fresh start.
Northeast 2 and Southwest 2 work pretty well for those in the real estate and property development business (particularly beneficial for long-term projects).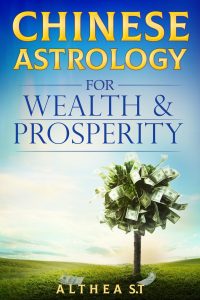 Reveal the wealth potentials of your Self and find which wealthiest people share the Self with you. Learn about ten ways to acquire wealth in Chinese Astrology, discover your wealth luck in the next few years – and more!
Available on Amazon Kindle and Smashwords.
Look for this and other Althea's books, to get invaluable insights and empower your life.
Environmental influences assessment.

Overall Qi flow evaluation.

The good and bad locations overview.

Info about favorable/unfavorable personal directions.

The ways to make improvements (

better directions or locations).

Other suggestions (they depend on existing issues and your objectives).