Feng Shui for 2020 (4): Flying Star for Romance
Feng Shui for 2020 (4)
Flying Star for Romance
Whether single or committed, we all need romance in our life.With annual Feng Shui tips, you can plan how to use your space to benefit your love life.
The best areas for romance in 2020 are:
SOUTHWEST
(for all)
NORTHEAST
(better for males)
SOUTHEAST
(for all)
WEST
(better for females) If you're single or just want more romance, move your bed to the
Southwest
room – or to the Southwest part of your bedroom!Since
Southeast
is also a great location for all those who look for romance, you could also move your bed to this location of the home (or bedroom) in 2020.When it comes to the best locations for single females, they can benefit from moving their beds to Southeast (spouse, soul mate) or
West
(significant other), just as males can improve their love life by sleeping in
Northeast
.
---
Browse https://altheafengshui.com to:
Read our Feng Shui articles and Feng Shui blog posts
Find out more about Feng Shui for 2020
Download a free copy of your "Feng Shui Guide for 2020" e-book
Schedule your Feng Shui Consultation
Calculate the Flying Star chart of your property
Calculate your Ba Zi Chinese astrology horoscope
Read more about your Chinese Zodiac sign's luck in the Rat year
Download ''Living in Accordance with Seasons'' e-book, and other free PDFs
Order your copy of the limited hardcover edition of the awarded book "A Course in Real Feng Shui"
Schedule your real Feng Shui private lectures
Consult "The Book of Changes", Yi Jing, online…
And much more!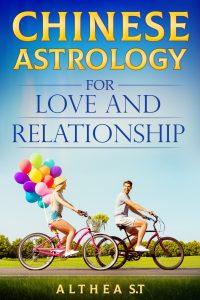 What do we really know about Love?
What does Chinese Astrology has to say about your Self and the ways it loves?
How about your Love Luck? 
—————
Look for this and other Althea's books on Amazon, to get invaluable insights and empower your life.

Get undivided attention and receive all the knowledge and support you might need in your Feng Shui practice.
We don't hide information, we want you to have strong Feng Shui skills, so that we all can make the world a better place to live.
Don't get satisfied with average, aim to the outstanding!