Feng Shui for relationships in 2021
Whether we like it or not, certain years deliver more relationship issues than others.
At these times, one could be dealing with impossible situations, heavy demands, manipulation and opposition. Moreover, during such years others may be tempted to betray us, but also to take advantage of our hopes, efforts and hard work.
The negative locations in your home for relationship luck in 2021 are:
Southeast

Northwest

Southwest
When it comes to Ba Zi astrology, those who have the Goat, Horse, Dragon or Dog in their Ba Zi chart (especially in the day column) can attract more negative relationship issues in 2021. If this happens to you, you would be best advised to stay away from both Northwest and Southeast, because triggering the energy of these areas increases the possibility of facing opposition and attracting disputes in 2021 (Northwest is also related to abuse, violence and possible theft).
As Southwest is a directional area that can make people irritable and tense, it is not suitable for irritable individuals who tend to snap easily. In addition, activating this location can bring some aggressive young people and conflicts into our life.
On the other hand, when it comes to locations that can help our relationships, the first to mention is Northeast.
Be sure to spend time here in order to improve your relationships and receive support and help.
If you desire a stable relationship and more understanding, and Northeast is inconvenient for you, then an alternative is provided by West.
Sleep or spend time in the West of your home to connect with this great annual energy!
Free 2021 pdfs

Chinese Astrology Guide for 2021

 
Learn the most effective Feng Shui methods of assessing, improving and activating the properties. Clear you doubts and get actual, measurable results. Four levels, intense studies, certification program available. Flexible timing, studying in small groups (2-5 people).
Receive the support you need, get all necessary explanations, gain confidence in consulting with a wide range of clients and achieve excellence in your Feng Shui practice!Flexible timing, undivided attention. Permanent training and certification program available.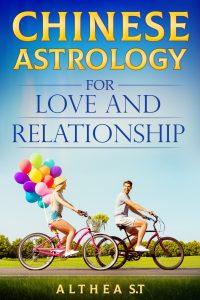 What do we really know about Love?
What does Chinese Astrology has to say about your Self and the ways it loves?
How about your Love Luck? 
Available on Amazon Kindle & Smashwords.
Look for this and other Althea's books on Amazon, to get invaluable insights and empower your life.
A course in real feng shui
Awards: Mind-Body-Spirit Book Award, January 2018
Title: A Course in Real Feng Shui: Make Your Property Work for You, at All Times
Chapters: 10 (+Glossary+Appendices)
Pages: 340
Illustrations and tables: 200
———
This is the only Feng Shui book you'll ever need! That's why we made it in hardcover – it's always going to be open!
———
Price: 35$
Shipping: $18
Approximate delivery time: 1-2 weeks for Europe; 2-4 weeks for the rest of the world
———-
—-
To explore the contents of this Feng Shui book simply follow the link: bit.ly/FENGBOOK
a course in chinese astrology ba zi
Awards: MBS Book Awards of Europe, January 2018 
Title: A Course in Chinese Astrology: Reveal Your Destiny, Harness Your Luck with Four Pillars
Chapters: 10 (+Glossary+Appendix)
Pages: 270
Illustrations: 50
Tables: 50
Charts: 50
Case Studies: 9
——-
This is the only Chinese Astrology book you'll ever need! 
——-
Price: 30$
Shipping: $17
Approximate delivery time: 1-2 weeks for Europe; 2-4 weeks for the rest of the world
—-
 —
To explore the contents of the Chinese Astrology book simply follow the link: bit.ly/ASTROBOOK