CHINESE ASTROLOGY FOR 2020 (1)
Chinese Astrology Ba Zi
Each year is ruled by one of the twelve Chinese Zodiac signs, which alternate in their rulership, following the 12-year cycle (because there are 12 Zodiac signs of the Chinese Zodiac). The Zodiac sign which precedes over a certain year affects all four Zodiac signs of your natal chart.
Depending on the relationship of the annual sign and the four signs of your Ba Zi Chinese astrological chart, certain years will act on various aspects of your life in different ways (friendly, neutral, or hostile).
Moreover, since the Stars in each of the twelve Zodiac signs change annually, this also determines the kind of luck each sign will have during the course of certain year (good or bad; average or great).
In such a way – minding that there are four Zodiac signs in your chart – while your personal life could be great at certain year (due to the influence of the good Stars on your Day Pillar), you may simultaneously find yourself dealing with career challenges (because the bad Stars might be concentrated on your career – the Month Pillar)!
To read the next post, Chinese Astrology for 2o2o (2),

click here

.
---
Browse https://altheachineseastrology.com to:
Read our Chinese Astrology articles and Chinese Astrology Ba Zi blog posts
Find out more about Chinese Astrology for 2020
Download a free copy of your "Chinese Astrology Guide for 2020" e-book
Schedule your Ba Zi Consultation
Calculate your Ba Zi Chinese astrology horoscope
Read more about your Chinese Zodiac sign's luck in the Metal Rat year of 2020
Download ''Living in Accordance with Seasons'' e-book, and other free PDFs
Order your copy of the limited hardcover edition of the awarded book "A Course in Chinese Astrology"
Schedule your real Chinese Astrology private lectures
And much more!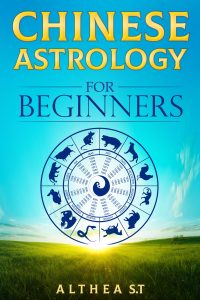 Discover 
your personality type of Chinese Astrology (The Artist? The Giver? The Protector?) 
and find 
your true potentials.
Reveal your luck in the next few years – and much more!
Available on Kindle & Smashwords
Look for this and other Althea's books, to get invaluable insights and empower your life. 

Get undivided attention and receive all the knowledge and support you might need in your Feng Shui practice.
We don't hide information, we want you to have strong Feng Shui skills, so that we can make the world a better place to live.
Don't get satisfied with average knowledge, aim for outstanding!
Chinese astrology articles & posts you might want to read